Hilton Chicago. Not Just a Venue. A Memory Maker.
Hosting events for up to 2,400 guests to small sessions of 20, you'll find the perfect downtown Chicago meeting space at the Hilton Chicago. Options include the following:
Over 234,000 sq.ft. of flexible meeting space
Grand Ballroom — a ballroom steeped in history and featuring more than 12,000 sq. ft. of uninterrupted space
International Ballroom — our largest space, comfortably accommodating 2,400 guest theater style or 1,800 banquet style
Stevens Meeting Center — 119,000 sq. ft. of versatile space for meetings and tradeshows
Salon A and C — our recently renovated spaces that can be divided in up to 6 different meeting room configurations
McCormick and Pullman Boardrooms — beautifully-appointed spaces for executive-level meetings
Third Floor Conference Rooms — twelve state-of-the-art rooms offer seating for 16 to 600 people
Fourth Floor Conference Rooms — 16 newly renovated meeting rooms that can accommodate 2-80 people
Tour the Hotel

Grand Ballroom
The Grand Ballroom, steeped in history and decorated with chandeliers and mirrored accents, is an unparalleled setting for an elegant event.
1,100 guests for banquet setting
Over 12,000 sq.ft.
34 ft. tall ceiling

International Ballroom
Our largest space can comfortably accommodate larger parties, with four divisible exhibit halls that are ideal for trade shows or exhibitions.
Over 21,000 sq.ft.
2,400 guests for theater setting
1,800 guests for banquet setting

3rd Floor
The third floor is home to twelve state-of-the-art rooms – perfect for small meetings to medium sized conferences.
20 – 600 guests for banquet setting
360 sq.ft. to 7,192 sq.ft.

Stevens Meeting Center
Spanning 119,000 sq.ft. with four versatile rooms, the center is an excellent choice for any number of events – including large functions, gala fundraisers and exhibitions. Salon A is divisible into five individual meeting rooms for self contained meetings.  Salon C is divisible in six different room configurations:
Salon A: Over 40,140 sq.ft.
Salon B: 9,204 sq.ft.
Salon C: Over 28,906 sq.ft.
Salon D: Over 34,884 sq.ft.

4th and 5th Floor
Executive-level meetings in distinguished boardrooms provides the perfect setting for your next power meeting.  You'll also find 16 recently renovated meeting rooms on the fourth floor, each one equipped with everything you need for a successful conference.
2 – 80 guests
300 sq.ft. – 900 sq.ft.
View Floor Plan and Capacity Chart
Venture to the fifth floor for an additional 9 meeting rooms. Set in a quieter area of the hotel, these smaller meeting rooms provide a more intimate and personal business experience.
8 – 40 guests
250 sq.ft. to 400 sq.ft.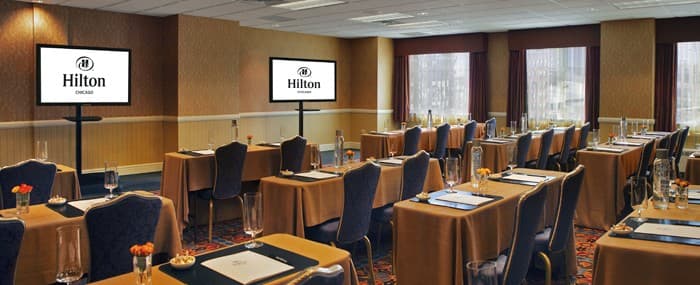 8th Floor
The Great Lakes meeting rooms—Erie, Huron, Michigan and Ontario–on the 8th floor offer 4 self-contained, column free spaces from 930-1,240 square feet offering ample foyer space for coffee and afternoon power breaks.